Szilágyi Dezső Square Church
Szilágyi Dezső Square Reformed Church: Neo-Gothic church on the Buda side of the Danube
The unusual shaped church is standing near the Batthyány Square.
The church was built between 1893-95.
The Neo-Gothic church made of red bricks, is completed by a slender bell tower 62 metres high. Its roof is covered in Zsolnay glazed tiles in brown, yellow and green.
It was designed by architect Samu Pecz, who also designed the famous Central Market Hall on the Pest side. A special architectural feature of the church is its ground plan arranged around a central pentagonal shape.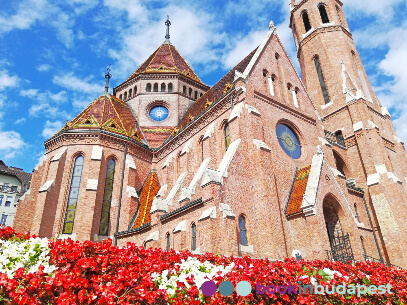 1011 Budapest, Szilágyi Dezső tér 3

Metro: line 2 - Station: Batthyány tér


St. Anne's Church in Buda (260 m)
Batthyány Square Market Hall (300 m)
Batthyány Square (340 m)
Church of Stigmatisation of Saint Francis (450 m)
Fisherman's Bastion (500 m)
Király Thermal Bath (800 m)