Szabadság Square
Szabadság Square: beautiful park with disputed monuments
Szabadság Square (Freedom Square) is located near the Parliament. Freedom Square is surrounded by imposing buildings.
On the site of the square stood a barracks from the 18th century. The heroes of the War of Independence of 1848-49 were executed here, hence the name of the square.
The barracks was finally demolished in 1898 and today's park was established.
The highly questionable monuments in the square are: The Soviet heroic monument and Monument to the victims of the German occupation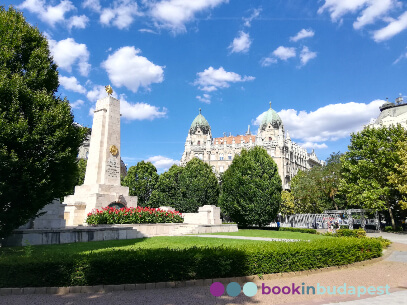 1054 Budapest, Sabadság tér

Metro: line 3 – Station: Arany János utca


House of Hungarian Art Nouveau (200 m)
St. Stephen's Basilica (500 m)
Palace of Justice (650 m)
Hungarian Parliament (650 m)
Shoes on the Danube (700 m)
Chain Bridge (850 m)
Opera Budapest (900 m)