Privát Pannonhalma Túra - Pannonhami Főapátság
Privát Pannonhalma Túra - Egész napos kirándulás a Pannonhalmi Főapátsághoz Budapestről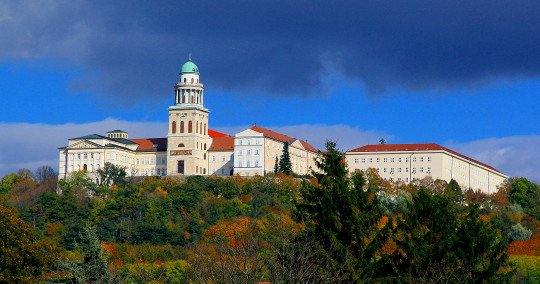 Privát Pannonhalma Túra egész napos kirándulás az 1000 éves Pannonhalmi Főapátság meglátogatására.
Type: Tours around Budapest
Departs From: Budapest
Meeting Point: Hotel pick-up
Duration: 6 hours
Available Languages: EN, DE, FR, IT, ESP, PT, RU
Available: daily at 09:00
This private tour to the western part of Hungary includes a visit to the 1,000-year old Benedictine Abbey of Pannonhalma.
Your personal tour guide will pick you up from your hotel in Budapest in the morning. After 1,5 hour drive you will arrive in Pannonhalma.
We start the tour in Pannonhalma and discover the oldest abbey of the country, designated a UNESCO World Heritage Site. The history of Pannonhalma Archabbey, built on the holy mount of the Roman province of Pannonia by Benedictine monks, is as old as Hungary's history itself.
You will have the opportunity to take a professional guided tour in Pannonhalma Archabbey.
In Archabbey Pannonhalma the scenic group of buildings include the sub church and cloister built in the 13th century in Romanesque and Gothic style, the monumental library with more, than 360,000 volumes, codexes and charters (including our most ancient surviving document to use the Hungarian language, the Charter of the Tihany Benedictine Abbey, dating back to 1055), the Baroque Refectory (with several examples of "trompe l'oeil") and the Archabbey Collection (the second biggest in the country). Tour begins with a fifteen-minute film, where visitors can get an insight into the life of the Benedictine community, then continues in the basilica, the crypt, the cloisters and the library. Do not miss out on visiting the beautiful botanical and herbal garden of the abbey!
After the guided tour we take our 3 courses menu, and we return to Budapest.
Get 5% discount: book airport transfer and any of the tour together, and we give you 5% discount from the shown price of the excursions.
Sights
- Guided visit to the Pannonhalma Archabbey
- The Library
- The Basilica and The Crypt
- The baroque Refectory
- The cloister
- Three course menu
Includes
- Hotel pick-up
- Personal guide
- Transportation by air-conditioned car/ minivan
- Entrance fee to the Pannonhalma Archabbey
- 3-course meal
- Hotel return
Excludes
- Personal expenses
- Tips and gratuities
- Optional activity costs
Please note
- Book a Private Pannonhalma Tour with a personal tour guide, travel in comfort and relax with our Door-To-Door Service!
- Fully private tours at any time, at your convenience!
- The duration and the route of the Private Pannonhalma Tour can be totally tailor-made according to your wishes!
Price / person
1 person: 330 euro / person
2 persons: 185 euro / person
3 persons: 150 euro / person
4 persons: 121 euro / person
5 persons: 105 euro / person
6 persons: 102 euro / person
7 persons: 102 euro / person
8 persons: 100 euro / person
9 persons: 95 euro / person
10 persons: 90 euro / person
11 persons: 85 euro / person
12 persons: 82 euro / person
Images