New York Cafe
New York Cafe: The most most beautiful cafe in the world, stunning interior decoration on the ground floor of a 5-star hotel
New York Cafe is located in downtown Pest, near Lujza Blaha square.
New York Palace was built in 1894 as the headquarters of New York Insurance. The palace, built according to the plans of Alajos Hauszmann, soon became one of the symbols of Budapest.
The most beautiful elements of the café are the frescoes on the interior ceiling. The ceiling paintings praise the work of Gusztáv Mannheimer and Ferenc Eisenhut.
The café was popular with famous artists and writers of the age.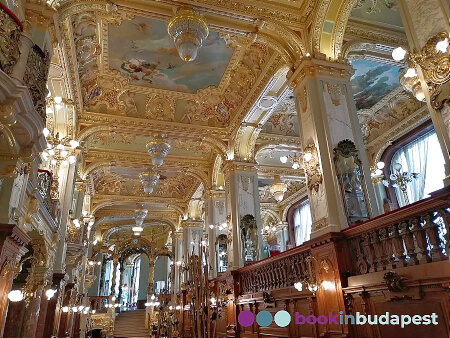 1073 Budapest, Erzsébet krt. 9-11

Monday: 08:00 - 22:00
Tuesday: 08:00 - 22:00
Wednesday: 08:00 - 22:00
Thursday: 08:00 - 22:00
Friday: 08:00 - 22:00
Saturday: 08:00 - 22:00
Sunday: 08:00 - 22:00

Metro: line 2 - Station: Blaha Lujza tér
Tram: Nr 4-6 - Stop: Blaha Lujza tér


Franz Liszt Academy of Music (750m)
Electrotechnical Museum (800 m)
St. Teresa of Ávila Parish Church (800m)
Kazinczy Street Synagogue (850 m)
Hunyadi Square Market Hall (900 m)
Oktogon (950 m)