Christmas Gala Concert in Budapest
Christmas Gala Concert in Budapest - Classical music favourites in Danube Palace
This Christmas, enjoy a special evening of classical music performed by the Danube Symphony Orchestra.
Duration (hours): 1,5
Type: Day Tours in Budapest
Departs from: Budapest
Meeting point: Danube Palace (Zrínyi u. 5.)
Available: at 20:00, meeting at 19:30
After arriving at Danube Palace, the theater usher will escort you to your seat in your selected seating category for your evening entertainment. Enjoy a magical evening of classical music favorites by attending the annual Christmas concert performed by the world-renowned Danube Symphony Orchestra. You'll enjoy favorites by Strauss, Brahms, and other composers as you celebrate the Christmas season.
PROGRAM
Part 1.
Hector Berlioz: Rákóczi March (Orchestra)
Zoltán Kodály: Intermezzo–from opera Háry János (Orchestra)
Johannes Brahms: Hungarian DancesNo. 5. (Orchestra with cimbalom solo)
Béla Bartók: Roumanian Folk Dances (Orchestra)
Ferenc Erkel: Palotás – from the opera Hunyadi László (Orchestra)
Franz Liszt: Hungarian Rhapsody No. 2. (Orchestra with cimbalom solo)
Part 2.
Franz Lehár: Eva-Waltz (Ballett Ensemble)
Emmerich Kálmán:The Czardas Queen– "Dasist die Liebe"
Franz Lehár: The Merry Widow- Medley (Orchestra)
Franz Lehár: The Merry Widow– "Grisetten Lied und Kan-Kan (Ballett Ensemble)
The Grigoraş Ionică Dinicu: The nightingale (Gypsy Band)
A csitári hegyek alatt… (Hungarian Folksong, Gypsy Band)
Vittorio Monti: Czardas (Gypsy Band)
Emmerich Kalman: The Devil-rider– Palotás (Orchestra, Ballett Ensemble)
Emmerich Kálmán: Countess Mariza– "Komm mit nach Varazdin"
Johann Strauss jr.:Long live the Magyar! Op. 332. (Orchestra)
Emmerich Kálmán: Countess Mariza– "Braunes Mädel von der Pussta" (Ballett Ensemble)
With Danube Symphonic Orchestra and Ballett Ensemble and soloists of Budapest Operetta Theatre
Each show consists of two 40- to 45-minute sections with an intermission of ten to fifteen minutes.
Get 5% discount: book airport transfer and any of the tour together, and we give you 5% discount from the shown price of the excursions.
Sights
- Make your Christmas magical with a beautiful concert performed by 20 professional musicians
- Listen to well-known and popular works of famous composers including Strauss and Brahms
Seating in the Danube Palace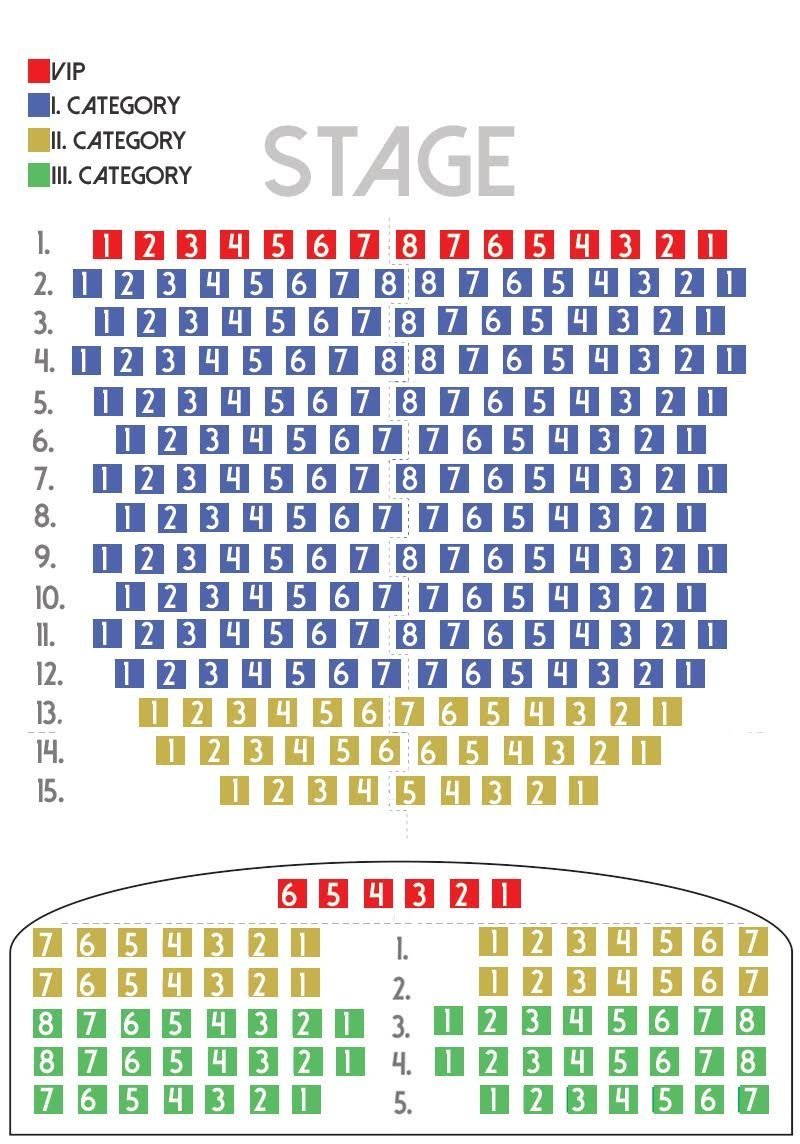 Includes
- theater ticket
- 1,5h performance
Excludes
- Tips and gratuities
- Personal expenses
- Optional activity costs
Please note
- Hotel pick-up NOT included.
Price / person
Adult 
Category I: 42€
Category II: 38€
Category III: 34€
Student 
Category I: 40€
Category II: 35€
Category III: 32€
Available
25.12 at 17:00, 20:00
27.12, 30.12 at 20:00,
01.01 at 17:00, 20:00
Images